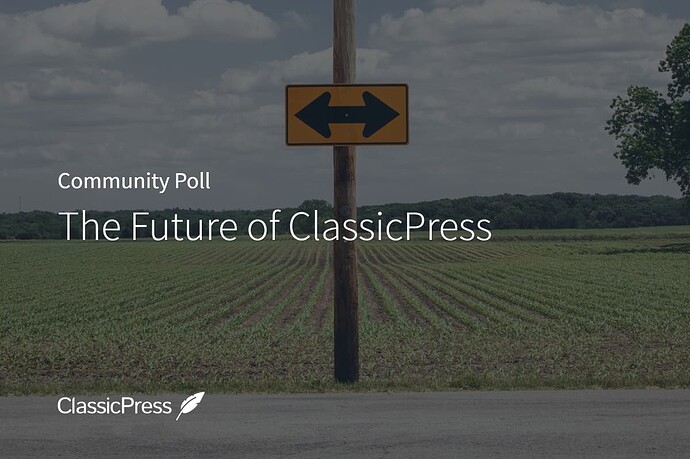 ClassicPress has been around for over 4 years now. It is a community-funded and community-driven project. That's why we need your help deciding where ClassicPress should go.
Over the past few years, our core team has been working on improving ClassicPress and backporting features from WordPress. As WordPress continued to evolve, ClassicPress got a bit behind in adding new features as the focus became PHP 8+ compatibility.
Now, we have an opportunity to decide what the future holds for ClassicPress.
We're presenting you with 2 paths to choose from:
---
Path 1: Re-fork ClassicPress using WordPress 6.0
For a while now, we've had some work done on a fork of WordPress 6.0, removing the block editor
and related components. Anyone interested can check out this WP-CMS repository.
It's not finished, it has issues, but a lot of the work to remove the block editor from WP has been completed. This would serve as a starting point to re-fork ClassicPress based on WordPress 6.0. Potentially, this could become ClassicPress 2.0. There are pros/cons:
Pros:
PHP 8.0/8.1 compatibility (same as WP)
Some plugins/themes compatible with WordPress 5+ would become compatible with ClassicPress
The new cherrypicking process could make backporting easier
Updated, more modernized codebase easier to maintain
Core team would focus on more pressing issues instead of chasing PHP compatibility
Potentially new core developers joining to help
Cons:
A lot of work, this would take months to complete
Coding standards may need to be adjusted (if we decide to keep our standards)
In addition to forking WP, we would need to port ClassicPress changes (custom login image, post ID column, color changes, etc.)
ClassicPress 1.x would need to be maintained (security patches only) for some time
This option would help us catch up with WordPress and PHP world, just needs time and a lot of work.
---
Path 2: Continue As-Is
This path means we would continue to work on ClassicPress 1.x as we have for the last few years. Version 1.5.0 is about to come out with full PHP 8.0 support, which also does help with PHP 8.1 compatibility but we haven't officially started on PHP 8.1 yet.
Pros:
Nothing extra to do, continue as is
No coding standards need adjusting
No need to port changes already in ClassicPress
No need to maintain separate versions of ClassicPress (1.x, 2.x)
Cons:
Our small core team will continue to focus on PHP compatibility
Backporting from WP is prioritized, so new ClassicPress features might not happen
We won't be able to catch up with WordPress, functions/features will be missing
Plugins/themes compatible with WordPress 5+ would be incompatible with ClassicPress
---
It's important to note, whatever option we choose to go with our plans to integrate the ClassicPress directory will go as planned. We will integrate our directory with ClassicPress alongside WordPress repository integration. So you will be able to install plugins/themes from both places.
Now, you have to make a choice to help us decide what path ClassicPress should take. Please, share your feedback on why you chose Path 1 or Path 2. We need to know what your needs are and what you want to get out of ClassicPress. Don't just vote and leave. Give us a little bit of information to help us understand your needs.
It's time to cast your vote. The results will be visible after the poll closes. Hopefully, we'll have our answer by the end of the month and year.
What path should ClassicPress take?
Path 1: Re-fork
Path 2: Continue As Is

NOTE: The poll's winning choice doesn't guarantee the final outcome. We will weigh the feedback in the comments to better understand what ClassicPress users really need and want while considering what is doable with our current resources and manpower.