I realise that some of the members have a problem with google tracking but if the user base is to grow our "product / cms " needs promoting. Attached picture is from google search for "cms for website". I know this is unlikely as an "exact" search term but it is what we should be ranking for.
Our logo is not featured and we are not in the (unless i missed it ) the top 50.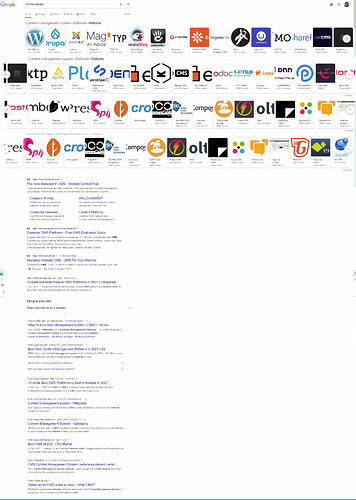 It does not matter how good ClassicPress is if no one can find it then all the effort over the last two years is wasted.
My view is take the offer from google for ad space, and check which pages people land on measure the response rate etc. and get more users. Attract developers by providing the potential for plugin and theme makers to make a profit.
Unless you know where visitors come from, i.e. where your potential users already visit or the search term they used any promotion or advertising is shooting in the air and hoping to get a fish.
Personal prejudices regarding google should not take precedence over the success of the project.
My rant over.