Continuing discussion from What does "Powerful, Versatile, Predictable" mean to you?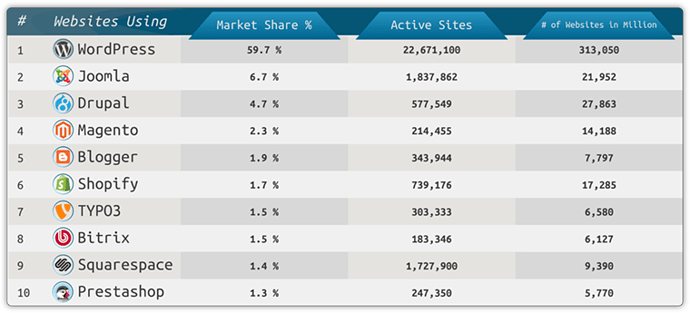 Here's what I don't understand about the 'losing ground to Wix, Weebly, et al' explanation. The above graph is from December 2018. WP's next largest competitor is a little more than 1/10th its size, and of the self-built options, only Squarespace cracks the top 10 at roughly 1/40th WP's size.
I don't think the decision to move to the block editor was driven primarily by competitive concerns; that is, the market didn't pull WP in that direction. I believe the market size of business and professional website owners who want to build their own cookie-cutter website is fairly limited, and that's why we don't see Wix and Weebly in the top 10.
It's a bit of mystery to me why WP would decide it needs to offer more options for page layout for non-coders (and it's a basic principle that 'more options == more complexity'), but CP basically says, 'Nah, we not goin there'. While we believe pursuing the business and professional website market will cause CP to grow and evolve in ways that represent REAL improvements to the platform, CP is for ANY USER who looks at WP today and says 'Nah…'