There is a link here: Our Community is Important! | Get Involved | ClassicPress
It says, "Make an account on our Slack channel," and down below that is this link: Slack
If I click that link from my iPhone or iPad, it says, "Your permission to join this Slack has been revoked". Can't do anything else. It doesn't take me to Slack (where I have an account and a member of multiple communities). It's a dead end.
If I click that same link from my laptop, it goes to a page that asks me to log in via Gmail, Apple, or my @classicpress.net email address. I have none of these, I have my own domain name, so this was very confusing.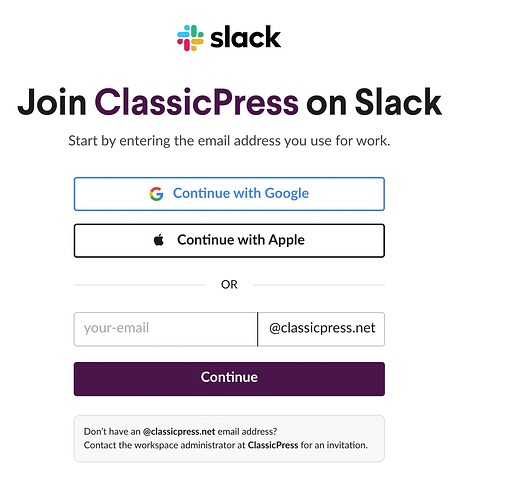 Finally, up in the right in tiny letters I realize there is "Already have an account? Sign in here", and I DO have my own Slack account, so I click on that. I'm thinking this has to work.

It takes me to a page that says if I put in my email address, it will send me a code to log in to the various Slack servers I'm a member of. This is standard, it's how I log into Slack from any new machine. Fine, I put in my email address, and it takes me to a page that lists all the Slacks I'm a member of - great, except the Classic Press Slack isn't anywhere on that list.
I notice from the forums that someone else had a problem similar to mine but that was two years ago, and there didn't seem to be any resolution for it.
This is exhausting and confusing. Is the Slack gone and the links were left up?