Is being able to mark a post as unread one of them? I'd really find that useful.

Actually, yes!
You can defer a topic which will set the last previously read to unread. So for this category setting deferred for me sets my unread to 1.
Here is how to do it on mobile (when I get to the office I will do the desktop version):
Click "Topic Controls":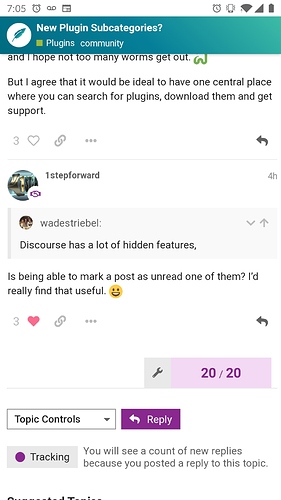 Click "Defer":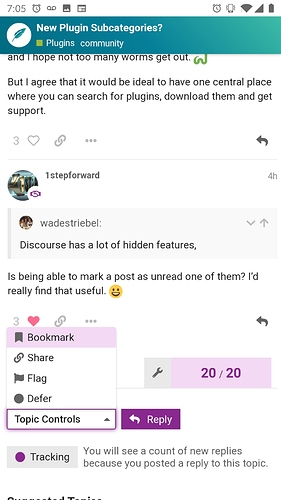 Weird. On the desktop I don't see the Topic Controls at all. On the mobile the Defer option is missing,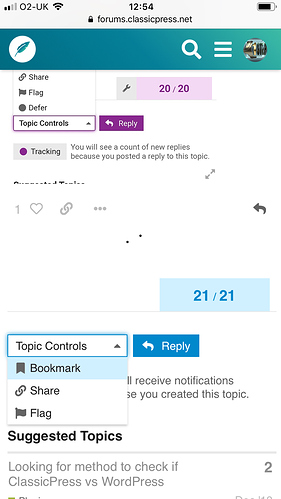 On desktop they are taken out of the dropdown.

But you are right, defer is missing.
I haven't got a spanner either


The spanner is for moderator tools

Like what Im bout to use to split this topic
Ah. Only for the important ones then.

Is defer maybe only active for administrators?
I looked at my other account (shhh don't tell anyone), and it doesn't have the defer option.
So I did a bit of quick digging, looks like the defer button is theme controlled:

What are you using then? Because I am using On Brand
Look what I've just found lurking in the settings: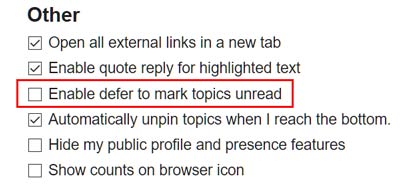 See post above

You just beat me to it by 0.963 nanoseconds.

Wade Striebel? More like Wade Speedel.
I like it

Sorry

It does make me curious what other features I use all the time that users don't know exist! Because I use the defer all the time when I want to come back to a thread.
1stepforward? More like 1stepbehind.
I updated my name on the forums to reflect your suggestion

Well I'm sure not changing mine.
@0.963nanosecondsbehind maybe