@BlueSkyPhoenix let's try to organize these links and resources a bit better. Here is what seems like the current structure to me.
Questions:
Do you have anything to add or change regarding my very basic way of thinking about what goes where?
Is there anything else we want to keep really visible, that can go on the wiki or the press/branding page? For example: https://github.com/ClassicPress/ClassicPress-Network/issues/21
Do we need all of these different places, or is there anything that we can consolidate?
Thanks for those questions. Consolidation leads to better time management every time. Resources need to be consolidated, top-down chain of command (obviously with a NPO Committee infrastructure), central marketing plan with tier/levels of execution matching marketing channel distribution, recruitment policies and methodologies, individuals or teams in charge of different roll-outs, etc.
I'll respond more to this when I am back at my desk on Monday. I would much prefer better organization, along with a brand style guide, and will be working on the same – my adding the links here was in response to an ask and this was the easiest way to get them the information they needed in a timely manner.
@voltaire, I much appreciate your input in the areas where you've given it, and several times now I've read about your desire to create a marketing plan. I'm all for it. If you would like to submit a proposed brand and marketing strategy @scott the marketing lead) and I (the design lead) would be happy to review it. Would you like to put something together for us?
I added this issue a few days back; seems it might be related to brand specification activities.
Thanks for pointing this out @Code_Potent. The brand evolved quickly and very organically and more than one person was involved, so I'm not surprised there isn't consistency. I'll talk to @james and @scott and we'll get things more coordinated as we move forward.
I'd like to focus first on marketing plan development, as I think that tends to feed visual branding, identity, and public perception and trying to solicit interest from @wadestriebel since I feel we've already been in communication a few times about that topic and matters related to it. I'd like to start with building purpose, differentiation, and establishing a sound path for going forward, then building on that. That's where I feel I can make the most impact so far but I need someone on the Committee who can help liaison.
I just responded to you on that in the other thread. Thank you!
Has there been any discussion about creating a Style Book?
A major aspect of the marketing should be consistency and uniformity in how the project is presented. A full Style Book will get detailed, but at this point, I would suggest that there are three key elements that should be decided before marketing starts:
Names
What are the full (legal), common, and abbreviated names of the project? (e.g., Wordpress.org, Wordpress, WP)
Logos
Letterhead (rectangular), App (square), Full, Abbreviated, Icon, FavIcon.
Style
Fonts (including size and formatting in documents)
Colors (Hex, RGB, CMYK, Pantone)
Names is something for the administration to work on. The other two areas would benefit from the input of any graphic designers.
Hi Blaze, this is something that has been discussed to some length over in the Design forum and I have done a first draft of a style guide, it is currently with the @Directors for review. I'll move this topic there for further discussion.
Ah. I hadn't gotten around to looking through the Design Forum (that's not my wheelhouse). It's good to know that this is being discussed and established.
Others are better qualified to set the specifics, but I'll offer my services to help write the Style Book. I have a degree in design, and a lot of experience explaining things "common users".
I'd be happy to take what the designers decide and present it in a way that non-technical users can understand.
Hello @BlueSkyPhoenix ,
A lot of designers I know use a site called brandsoftheworld.com.
I took the initiative to upload an .eps version of the ClassicPress logo to that website for use in printed work by designers (like when they want to advertise their use of CP like many nowadays do with WP).
I hope this is okay, and that I didn't overstep.
https://www.brandsoftheworld.com/logo/classicpress the .eps file is located here.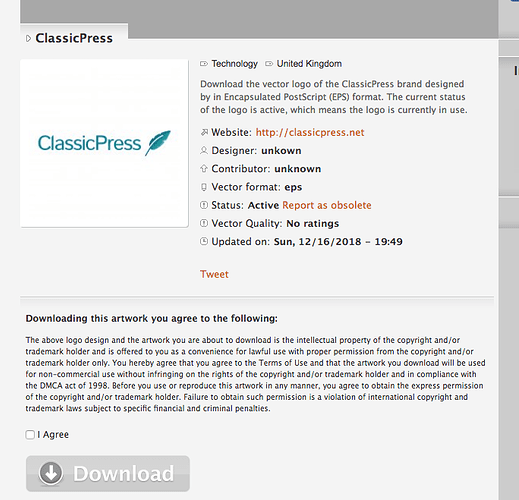 I appreciate you taking the time to do this, but it was just a teeny bit premature, as the style guide hasn't been published yet. No harm done, though – it will be published shortly. Thanks so much!