Mod Edit: Split from ClassicPress Update Manager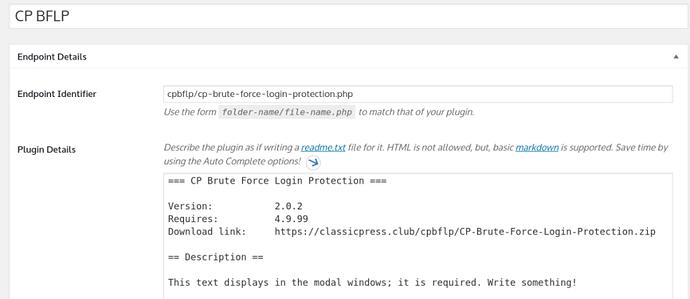 Okay, I give in. I can't get this to work, no matter what I try.
I made the changes to the actual plugin, changed the namespace, added the require once, lines 28 & 72 and updated the version number.
But I have no idea what this "endpoint" thing is. When I test it, I just get [ ]
Originally I set the endpoint to where the current 2.0.1 plugin is installed, but that didn't work.
So I created the folder cpbflp in both the wp-content folder and the root folder. I uploaded the updated plugin folders and files to both and the zip file to both.
Tried various settings in the editor and ended up just using the bare minimum settings. Saved it as Pending and gave it one site to test it with. But nothing happens, probably because the endpoint test fails.
What am I missing? It's all right for you geeks, but I need a simpler explanation of what to do.